Events
Annual Day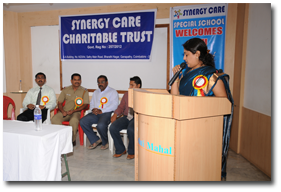 Our first year annual celebration was held on 12 th may 2012, which was Inaugurated by Mr. Chandra Mohan Asst commissioner of police, Coimbatore. The event started off with an introduction of the trust members, followed by cultural programs of our children. Children were seen enjoying the entire evening being in the spot light and the parents whose hearts were filled with pride were busy clicking photographs of our little stars on stage. The program ended on a happy note, with a prize distribution by the guests.
Independence Day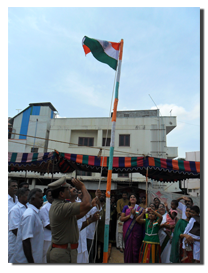 66th Independence Day celebration started off with flag hosting by Mr. Periyasamy Inspector of Police, saravanapatti, accompanied by Mr. Natarajan ward (Ganapathy) councilor. Children were dressed up like freedom fighters and participated in the function along with their parents. An entertainment program was performed by Suriyan FM RJ Rajkumar of chinnathambhi fame, as the children seen enjoying the program till the end. At end of the day all children returned home happily with the gifts given to them.
Free Assessment Camp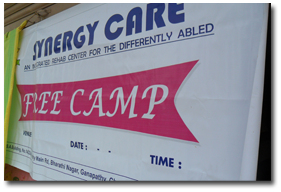 Assessment camp was conducted on 20-21 august 2011 by a professional team comprising of psychologist, physiotherapist, occupational therapist, speech therapist and special educator in order to identify children who need rehabilitative services. This was an initiative of our early identification program during the year. The response was quantitatively high, through which we identified many children who are in need of our rehabilitative services.
Sports Day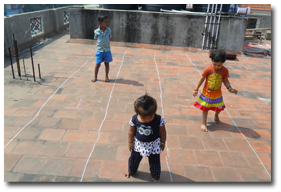 "Play is not a luxury, but is a necessity", this not only suits for general people like us but also for differently abled children, so we celebrated November 14th Jawaharlal Nehru's birthday as sports day. Our students participated in the events like lemon and spoon, running race, frog race, and obstacle race with keen interest and competitive spirit. After the event trophies were distributed to the winners and also gifts to all the children participated in the sports day event.
Free Summer Camp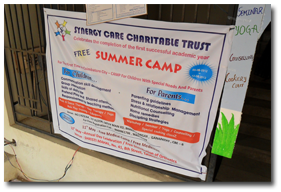 A three day summer camp was organized for both special children and their parents in Coimbatore from 9-12 May 2012. Over 50 children participated along with their parents in the events. Separate sessions were conducted to children and their parents. Behavioral modification strategies, counseling, special cookery classes, stress and relationship management and yoga classes were conducted for parents while the children were engaged with music and dance therapy, role playing activities, yoga and pragmatic skill training programs. Children enjoyed and showed lot of interest in art and craft classes.